New! New! New!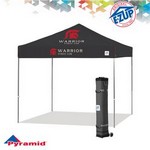 Pyramid™ 10 x 10 Multi Color Print Ten...
With 8 NEW colors and upgraded stylizing, the Pyramid™ Instant Shelter® takes portable shade to a new level of cool. Featuring a clear span center inside and a full 100 square feet of shade, set yours...
$284.00 - $299.00
Welcome!

Welcome to Peak Branding, Inc.
Our goal is to help you find the best products to brand your business, organization or event. We have thousands of products on our site, but more importantly we offer you personalized service to ensure that you choose the right products at the best prices possible.
You can place your order through the website shopping cart, or use it as an "idea" book to get your creative juices flowing, then call us so that we can help you brand your organization.
Signature Showrooms