New! New! New!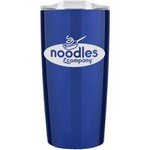 20 Oz. Odin Vacuum Insulated Tumbler
Substantial appearance while surprisingly light weight. Broad, columnar build grabs attention. Tumbler feels balanced whether you hold it top, middle or bottom. Lid secures against spills w/gratifying...
$8.75 - $14.99
Welcome!

Welcome to Peak Branding, Inc.
Our goal is to help you find the best products to brand your business, organization or event. We have thousands of products on our site, but more importantly we offer you personalized service to ensure that you choose the right products at the best prices possible.
You can place your order through the website shopping cart, or use it as an "idea" book to get your creative juices flowing, then call us so that we can help you brand your organization.
Signature Showrooms